South Derbyshire salutes its armed forces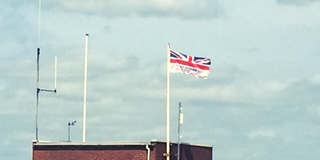 South Derbyshire District Council shows its support for its armed forces community by flying the flag for Armed Forces Day.
The flag was raised this morning (Monday 22 June) and will fly ahead of Armed Forces Day this Saturday, 27 June.
Because of social distancing measures to prevent the spread of coronavirus (COVID-19), it has not been possible to hold a ceremony this year with armed forces members and veterans.
Councillor Martyn Ford, South Derbyshire District Council's leader, said:
"Although we are not able to meet this year, our commitment to our armed forces personnel and veterans in South Derbyshire remains as strong as ever.

"We demonstrate this by flying the Armed Forces Day flag but, more importantly, through our commitment through the Derbyshire Armed Forces Covenant."
Stuart Allen, Chairman of Swadlincote Royal British Legion said:
"The continued commitment of South Derbyshire District Council to our serving servicemen and women makes me very proud to be former serviceman and acknowledge the outstanding support which we are given in the district. However, sad that this year, for the first time since we had a flag to raise, that it could not be done formally."
South Derbyshire District Council is committed to supporting the Armed Forces community and reaffirmed this commitment by signing up to the Derbyshire Armed Forces Covenant in March 2019.
The covenant is a promise by the nation ensuring that those who serve or who have served in the armed forces, and their families, are treated fairly.
The covenant gives a commitment that the Council will administer grants for serving personnel and veterans, in certain circumstances will give priority for social housing and support employees who are armed forced reservists.
Information on how people can mark Armed Forces Day is available on the Armed Forces Covenant section of our website.
22 June 2020