Low carbon homes event for South Derbyshire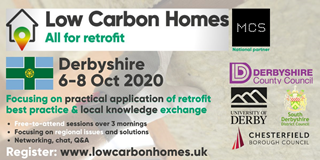 The online event from 6 to 8 October – sees of three days of intense discussion and knowledge-sharing to consider how best to rapidly scale up the retrofitting of housing locally.
Low Carbon Homes brings global domestic energy efficiency innovation to the UK's regions via a nationwide event series focused on the challenges of retrofitting the UK's existing 25 million homes.
Aimed at architects, heating engineers, local authorities, landlords, contractors and related sector professionals, the free-to-attend events feature a structured programme built around three core sessions for each host city/region:
1. What have we got to do and how are we doing?
2. What else could we be doing?
3. What's holding us back?
Registration is free for representatives from local area, and invited guests.
The online event takes place across three mornings – (Tuesday-Thursday 0900-1200hrs)
Depending on access granted, delegates can view sessions, post questions and network with other delegates, presenter and sponsors
To register, visit www.lowcarbonhomes.uk/events


14 September 2020