Take part in the Great British September Clean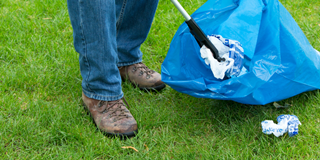 Residents in South Derbyshire are invited to help keep South Derbyshire tidy by taking part in the Great British September Clean.
South Derbyshire District Council is supporting the annual clean-up campaign which runs from 11 to 27 September.
Residents and can organise and take part in litter picks with up to five family or friends or pledge to pick up litter on their own. To register a litter pick, please visit the Keep Britain Tidy website: https://www.keepbritaintidy.org/get-involved/support-our-campaigns/great-british-spring-clean.
Anyone taking part is reminded to follow social distancing guidelines at all times.
Councillor Andy MacPherson, Chairman of South Derbyshire District Council's Environmental and Development Services Committee said: "We all need to play our part in making South Derbyshire tidy and free from litter and to do this, we are asking for your help by organising and taking part in litter picks.
"Please make sure you follow social distancing guidelines at all times to keep yourself and other volunteers safe."
The Council will support litter picks by providing equipment and collecting bags of collected rubbish.
To arrange for this, please email: waste.cleansing@southderbyshire.gov.uk.
People will also be able to nominate their community litter champions in the Love Where You Live or Work category, sponsored by South Derbyshire District Council in the South Derbyshire Awards in 2021.
For more information on the awards, visit: www.southderbyshireawards.com.
9 September 2020