Candidates announced in Seales ward by-election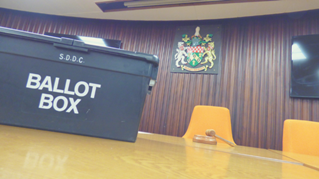 The candidates standing in the by-election to elect a councillor for the Seales ward of South Derbyshire District Council have been announced.
The by-election will take place on Thursday 9 September.
The candidates are:
Amanda Jayne Baker (GRN)
Louise Ann Mulgrew (LAB)
Stuart Thomas Swann (CON)
Amy Wheelton (IND)
The successful candidate will join Councillor Simon Ackroyd (Con) as Councillor for the Seales ward. Both councillors will serve until the next local elections in 2023.
Polls will be open from 7am to 10pm on 9 September.
Ardip Sandhu, the Returning Officer for the by-election said: "Now the candidates have been announced, residents in the ward have the opportunity to decide who they want to represent them until the next local elections in 2023.

"Everyone eligible to vote in this by-election will receive a poll card with details of their polling station. It is not necessary to bring this poll card to the polling station to vote."
The deadline to register to vote in this by-election is Monday 23 August.
Anyone who is not registered to vote or is not sure of their eligibility should visit www.gov.uk/register-to-vote.
13 August 2021