Defibrillator installed at Midway Community Centre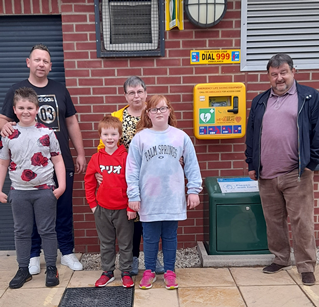 Residents in Midway and Newhall will be able to rest a little easier following the installation of a potentially life-saving defibrillator at Midway Community Centre.
The medical device, that is available to help and support the rescue of a patient in cardiac arrest, has been installed on an external wall of the Centre and is registered with the Ambulance Service. It was sourced from an organisation called Community Heartbeat Trust and features easy-to-follow instructions for use.
A grant of £1,000 was awarded by Derbyshire County Council to Midway Youth Activities Group towards the cost of the defibrillator, and South Derbyshire District Council covered additional costs.
Midway Youth Activities Group meets weekly at the Community Centre to deliver constructive activities for local young people and help reduce anti-social behaviour in the area. A number of group members recently attended a first aid course and it was at this session that the idea of providing a defibrillator was first raised.
Other defibrillators on District Council premises are located at…
Swadlincote Civic Centre
Melbourne Sports Park
Rosliston Forestry Centre
Maurice Lea Park
Green Bank Leisure Cntre
Etwall Leisure Centre
When the easing of Covid restrictions allow the Council hopes to organise a group training session on the operation of defibrillators for leaders and community representatives.
Councillor, Gordon Rhind, Chairman of South Derbyshire District Council Housing and Community Services Committee, said: "The value of readily-accessible defibrillators was recently highlighted in Euro 2020 when the Danish player Christian Erikson suffered a cardiac arrest during a game. A speedy response with the right equipment to hand is often critical in such situations and so we are very pleased Midway Community Centre now has its own defibrillator if ever needed by the local community."
Picture caption - Councillor Gordon Rhind – far right with members of Midway Youth Activities Group and the new defibrillator, from left – Devon Bates, Scott Bates, Noah Robinson, Susan Cotton and Phoebe Robinson.
30 June 2021