Let's be COVID-safe together scheme launched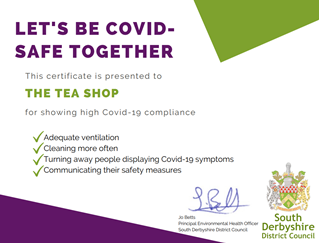 South Derbyshire District Council is launching its 'Let's be COVID-safe together' shop-with-confidence scheme and is encouraging local businesses to get involved.
The scheme is free and is designed to support local businesses by helping to provide reassurance to the public that businesses are following Government guidelines to reduce the risk of COVID-19 transmission.
The Council recognises that lockdown has had a major impact on local businesses and consumer confidence has not yet fully returned. This initiative is one of a number of measures enticing shoppers back to the high street.
The scheme will highlight a COVID compliant business by issuing a visible certificate of conformity. This display certificate will set out expectations for customers and echo central Government's safety messages.
Councillor Kevin Richards, Leader of South Derbyshire District Council said: "This scheme has already been given the thumbs-up by many local businesses and I'm sure will be well received by shoppers too.
"It gives a reassuring visible sign that the business has assessed risks associated with COVID-19 and has put measures in place to reduce transmission - giving customers more confidence in entering the premises.
"I am sure businesses take up will be high and it will translate into more residents returning or continuing to make use of the great array of shops in South Derbyshire."
Customers will be encouraged to provide confidential feedback on their experience if they think a business is not meeting standards. Local authority staff may make compliance checks and respond to complaints.
A business will have to have a feedback mechanism to allow customers to report businesses who are not abiding by the requirements of the scheme but displaying the material.
Many businesses have already signed up - if your business would like to join the scheme email: environmental.health@southderbyshire.gov.uk to find out more.
14 October 2021