Swadlincote's Remembrance Sunday parade returns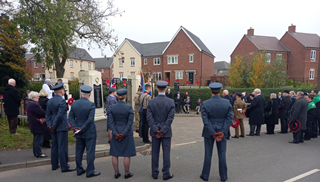 South Derbyshire's commemoration arrangements have been confirmed for this November, and after a two-year absence the parade in Swadlincote will return.
There will be a short Service of Remembrance on Armistice Day (Friday 11 November) on the Delph, outside Swadlincote Town Hall. The Remembrance Sunday (Sunday 13 November) parade will start in Swadlincote High Street and culminate in an outdoor service and wreath laying at the Memorial Gates at Eureka Park
This will be the first parade residents can take part in for two years due to the prior Covid-19 restrictions in place.
There will also be two indoor evening services on Remembrance Sunday - one at the Salvation Army Citadel on Wilmot Road, Church Gresley at 5.00pm and the other at Emmanuel Church, Church Street, Swadlincote at 6.30pm.
Councillor Paul Dunn, Chair of South Derbyshire District Council: "It's good news that the parade on Remembrance Sunday will be able to return this year after its enforced absence.
"We know how much South Derbyshire residents value the opportunities to pay their respects to those who made the ultimate sacrifice on Armistice Day and Remembrance Sunday.
"Taking part in the parade through the streets of Swadlincote has been a missing poignant piece over the last few years, and its return will be welcome by many."
Both the outdoor commemoration services will start at 10.50am - for further times and information please visit: Remembrance Sunday 2022.
(Image taken from last year's Remembrance Sunday Service.)
1 November 2022