Delph works to start in Swadlincote town centre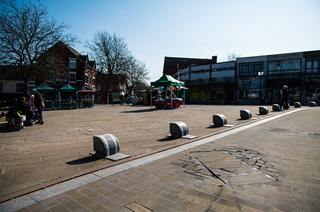 Additional bollards will be installed to prevent unwanted vehicle access onto The Delph market square and the central area of sandstone paving incorporating the granite benches is to be removed and replaced with granite paving.
The work to The Delph will be carried out in phases to minimise inconvenience for shoppers. Pedestrian access to the businesses around The Delph will be available at all times.
The curb at the edge of The Delph onto Midland Road is to be removed and the steps to the Town Hall refurbished.
The works are anticipated to be completed by the end of April 2023 but will depend on weather conditions during the winter.
Councillor Kevin Richards, South Derbyshire District Council's Leader, said, "I am pleased to see these works to The Delph get underway.
"It is used regularly throughout the year for markets and events and these improvements will give Swadlincote a fitting venue. I hope it will also provide a boost for the businesses in the town centre by encouraging residents to shop locally."
For short periods during the works there will be road closures while the edges of The Delph are being worked on – these will affect both Midland Road/High Street/Belmont Street and Market Street/West Street.
During the works Swadlincote Market will be relocated to High Street. Market days and times will be as normal - Tuesdays, Fridays and Saturdays.
If town centre businesses have any queries during the works, the contact point for the contractor, Alliance Group, is as follows: 07810 111 877 or out of hours on 01623 750 231.
South Derbyshire District Council has recently completed works to improve the frontages to Numbers 5-15 West Street, with contemporary grey cladding installed across the top of the building and matching first floor windows for the shops fronting on to The Delph.
Works to regenerate the vacant land between Midland Road and Belmont Street, known as Bank House/Sabine's Yard will get underway in the coming weeks.
16 January 2023