National Forest sustainable tourism accommodation design guide and support programme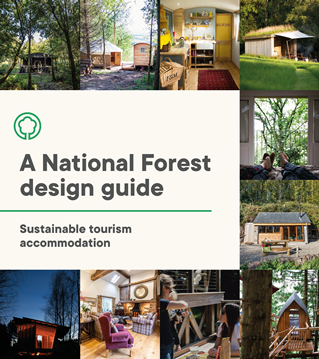 The National Forest Company have launched a new Design Guide to promote best practice in sustainable tourism accommodation development. The guide addresses concerns that sustainability can seem complicated and too difficult or expensive to implement, setting out seven sustainable design principles as a menu of options.
These principles encourage design in harmony with the Forest character, health and wellbeing, support for the local economy and communities, ethical and sustainable building, promotion of low carbon travel, integration with nature and water management.
Following the advice should help protect businesses from the impact of climate change, future proof the development ahead of new legislation, attract new and diverse markets and deliver an improved return on investment in the long term.
The Design Guide is accompanied by a video that explains the vision for sustainable tourism in the National Forest, and a new programme of support and grants to help bring forward low carbon tourism accommodation developments. The support programme will provide flexible and tailored advice and support via email, phone or through a site visit by one of the National Forest Company's specialist advisors appointed to help develop ideas in line with the principles outlined in the Design Guide. Grants will also be available to support projects that are ready to undertake full feasibility and business case development.
To help the National Forest Company tailor its support, interested landowners and businesses located in the National Forest are asked to complete a Project Concept Form in order to gather the relevant information needed to get the best out of a site advisory visit. Forms can be submitted at any time, but the initial priority will be given to those submitted by 31 January 2022. Interested landowners or businesses can also discuss their initial ideas in confidence prior to completing the Project Concept Form with Adam Gough, one of the consultants leading on the delivery of the support programme, by emailing a.gough@naturalland.co.uk
Copies of the Design Guide, other resources, the Project Concept Form for completion and an introductory video are available to download at nationalforest.org/tourism A recording of the Design Guide launch webinar including details of the support programme is also available to watch at https://youtu.be/iGvNAB5TyrQ
5 January 2022