Businesses showcase vacancies at Job Fair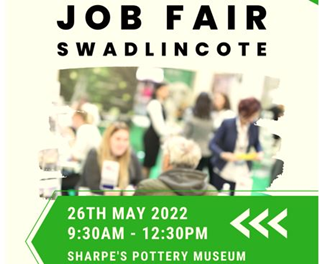 Job fair at Swadlincote will be offering job opportunities, thanks to those employers registered to showcase the variety of roles available to those out of work or looking for a new position; confirmed employers include: F Brazil, First Fence, Active Nation, Gresley House, whilst local organisations will be on hand to assist those looking to improve their employability through training or volunteering. Confirmed recruitment agencies include Recruit 2 Suit, Pertemps, Mach Recruitment, Gi Group.
The event will be held at Sharpe's Pottery Museum, West Street, Swadlincote, Derbyshire, DE11 9DG
Date: 26 May 2022
Time: 9:30am - 12:30pm
The aim of the Fair is to give people the opportunity to find employment, develop their skills, build confidence and gain an understanding of what careers are available locally.
There are only a couple of stands left for employers – businesses wishing to book a stand contact:
Justyna Zakrzewska | Employment Adviser – Swadlincote Jobcentreplus
Tel: Mobile 07799464520
Email: Justyna.Zakrzewska@dwp.gov.uk
5 May 2022