Church Gresley Heritage Trail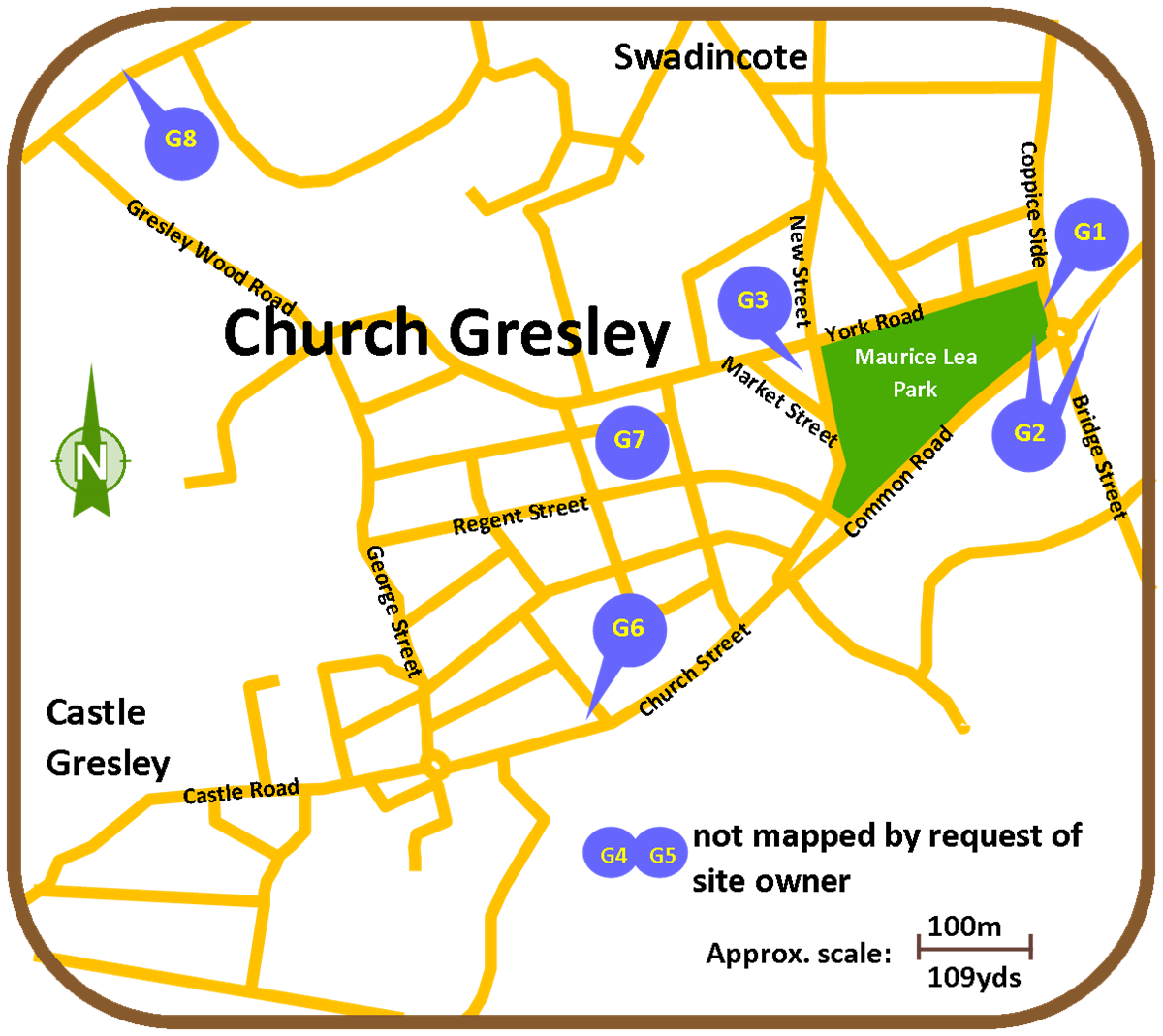 G1: Maurice Lea Memorial Park
York Road, Church Gresley
The idea of having a park here was raised at the end of the 19th century when the common was covered by clay hollows and had become a dumping ground for refuse.
The outbreak of war in 1914 caused many schemes to be postponed and the subject was not raised again until 1922.
In June 1927, Mr and Mrs Herbert Lea from London - former Gresley residents -visited. Mr Lea liked the work done to look after Church Gresley common so much that he offered to support it in memory of his son, Maurice, who died at the Battle of the Somme.
He paid most of the costs to turn part of the common into a public park.
On 17 May 1930, the Maurice Lea Memorial Park was opened in front of a crowd of 5,000 people.
Research by Nathan, Ashley and Mollie from Pennine Way Jr School
Full details can be found in the Swadlincote Heritage Trail 2 (pdf, 2.9mb) leaflet.
G2: Information board Maurice Lea Memorial Park (not on site yet)
York Road, Church Gresley
The works of TG Green, Mason Cash and Granville Colliery stood a short walk from here and people used these paths to go to work. Memories and some buildings remain, but the views are now over The National Forest.
Full details can be found in the Swadlincote Heritage Trail 2 (pdf, 2.9mb) leaflet.
G3: William Beesley V.C.1895-1966
Memorial Garden, Market St, Church Gresley
William Beesley was born on 5th October 1895 in the Parish of Church Gresley.
In 1901 he moved with his family to Nuneaton where his father- and later himself - worked in the local collieries.
When war was declared William was quick to enlist and allocated to the 9th King's Royal Rifle Corps. He saw action in Flanders and was wounded three times. He was transferred to 13th Rifle Brigade (Prince Consort's Own) and trained as a Lewis Gunner.
On 8th May 1918 he was awarded the Victoria Cross "for most conspicuous bravery" at Bucquoy.
After the war, William returned to Nuneaton and was made a Freeman of the Borough.
William went on to serve in WWII as a Sergeant in the Royal Artillery.
He died in September 1966 in Abergavenny, Wales.
Full details can be found in the Swadlincote Heritage Trail 2 (pdf, 2.9mb) leaflet.
G4: T.G. Green & Co Ltd
Church Gresley (not mapped at request of owner)
T.G. Green & Co Ltd operated in Church Gresley from 1864 until 2007.
At its peak it employed 1000 local people making pottery for the domestic and international market.
Its famous blue and white Cornish Ware stripes can be seen in kitchens around the world and on numerous films and TV programmes—something
for Swadlincote to be proud of.
The remaining four Grade II* listed bottle kilns and stable block are a significant reminder of the area's importance within the pottery industry.
Although what remains of the old factory site is on private land and not accessible, a dedicated archive has opened in Church Gresley for people to learn about TG Green and what was made there - check the website for opening times and details: www.gresleypottery.uk
Full details can be found in the Swadlincote Heritage Trail 2 (pdf, 2.9mb) leaflet.
G5: Mason Cash
Church Gresley (Not mapped at request of owner)
The origins of Mason Cash can be traced to a pottery operating in Church Gresley in the 1800s which made goods from the 'white and cane' glazed earthenware sometimes known as 'yellow ware'.
The pottery was run by a series of Master Potters, of whom the most colourful was 'Bossy' Mason, which is where the 'Mason' name came from.
Thomas Cash acquired the pottery in 1901 and renamed it Mason, Cash & Co. In 1901 Mason Cash designed and manufactured the very first iconic Mason Cash mixing bowl - recognised by the oatmeal colour and distinctive pattern on its outside.
In April 2004 The Tabletop Company purchased Mason Cash 2006 and the factory in Church Gresley shut, with the machinery moved to Portugal where production continues. Main source: www.masoncash.co.uk/about-us
Full details can be found in the Swadlincote Heritage Trail 2 (pdf, 2.9mb) leaflet.
G6: George Harrison
Rising Sun Public House, 77 Church St, Church Gresley
George Harrison played professional football for Everton between 1913 and 1923 and earned two caps playing for England in 1921.
George was born in Church Gresley in 1892 and married Frances O'Brian in the village. They had one son.
His footballing career started with Coalville Town (1910), Gresley Rovers (1911) and Leicester Fosse – now Leicester City (to 1913). After Everton, he was at Preston North End from 1923-1931.
When he retired from football he started his pub management career in Preston, returning to Gresley to run the Rising Sun in 1936.
After struggling with illness George tragically took his own life in February 1939.
George's unmarked grave was located in York Road Cemetery, Church Gresley in 2015. Everton FC and the EFC Heritage Society marked his grave in 2016.
Full details can be found in the Swadlincote Heritage Trail 2 (pdf, 2.9mb) leaflet.
G7: Waterfield's Bakery
Regent St, Church Gresley
Joseph and his son Joseph Harold (known as Harold) developed a large and successful bakery, catering and confectionary business which won national awards.
Joseph started the business in 1895/6 at premises on Alexandra Road in Swadlincote when he was only 19 years of age.
By 1911 he had relocated the bakery to larger premises in Regent Street, Church Gresley (demolished in the 1970s and there are flats on the site).
The bakery business included a shop/tearoom at 47 Market St, reception rooms on New Street - both in Church Gresley - and a shop in Castle Gresley.
Harold expanded the business into Swadlincote town centre and ran tea rooms on High Street, where Boots the Chemist is today. He also opened shops in Burton-on-Trent and Ashby-de-la-Zouch.
Full details can be found in the Swadlincote Heritage Trail 2 (pdf, 2.9mb) leaflet.
G8: Sabine Brothers (Engineering)
Hearthcote Rd, Swadlincote
Sabine and his brother were blacksmiths who lived in Swadlincote in the early 1800s.
Among other things, they invented the extrusion machine for making sockets to go on the ends of clay pipes. This was used by the pipe manufacturer, Thomas
Wragg, with great success. It meant sections of pipe could be joined together more easily than before.
At the time of printing, part of Sabine's Foundry, which made
munitions during the First World War, remains on Belmont St.
Sabine Brothers (Engineering) Ltd is still based in Swadlincote, on Hearthcote Rd, and run by Mr Tim Sabine, the 5th generation of the family to run the firm.
Full details can be found in the Swadlincote Heritage Trail 2 (pdf, 2.9mb) leaflet.