Newhall Heritage Trail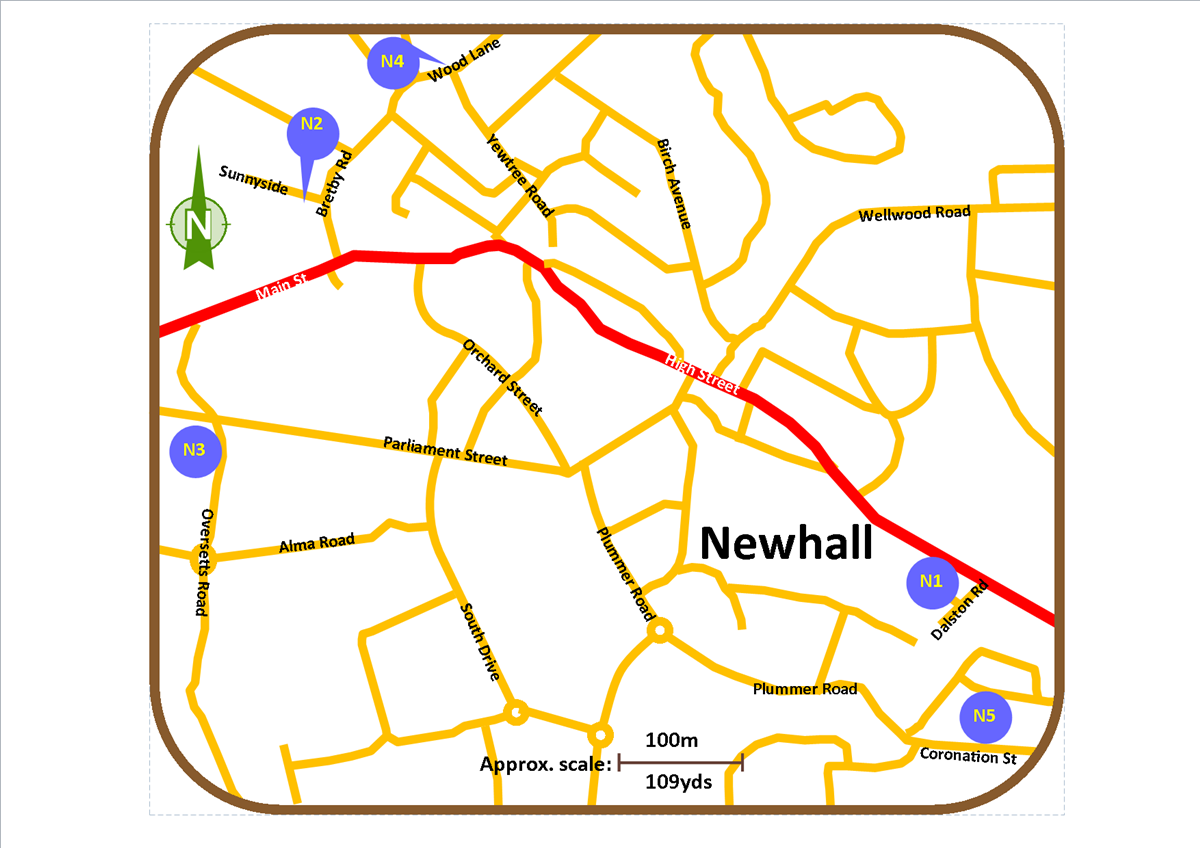 N1: Jack Bodell
Dalston Road, Newhall
Jack Bodell 1940-2016 is one of South Derbyshire's favourite sporting heroes. The 'Gentle Giant' was born and raised in Newhall, worked as a miner and took up the sport of boxing quite late in life.
He became Amateur Boxing Association Light-Heavyweight champion in 1961 and also became British Heavyweight Champion twice, the first of these in 1969.
He enjoyed a very successful, professional career, winning 58 of 71 contests over a 10-year period.
The highlight of his boxing career was becoming British, Commonwealth and European Champion, beating Joe Bugner in the title fight.
Jack lived in Newhall for many years, then Hartshorne, finally moving to Coventry.
Even after leaving the town he was a regular visitor to Swadlincote, often enjoying a game of dominoes in the Foresters pub.
Full details can be found in the Swadlincote Heritage Trail 2 (pdf, 2.9mb) leaflet.
N2: Emmeline Jean Hanson
Sunnyside, Newhall DE11 0TL
Jean Hanson was born on 14th November 1919 in Newhall.
She was a biophysicist and zoologist known for her contributions to muscle research.
Hanson joined King's College London in 1948. She worked on muscle fibres and obtained her PhD in 1951. Working with a colleague, Hugh Huxley, she developed "sliding filament theory" on muscle contraction.
Their publication in the 22 May 1954 issue of Nature became a landmark in muscle physiology and King's College describes her as "one of the most influential researchers to have worked at King's College London in modern times" going on to say "her work has led to an understanding of how athletes can run faster and develop greater stamina by providing an insight into the molecular secrets of locomotion."
Main source: Wikipedia and Kings College collection.
Full details can be found in the Swadlincote Heritage Trail 2 (pdf, 2.9mb) leaflet.
N3: Hannah Mitchell
Oversetts Road, Newhall
Born into a poor mining family, Hannah Mitchell was raised on a remote farm in Alport Dale, then moved to Bolton, Lancashire as a seamstress.
She spent part of her married life in Newhall. She was involved in the suffrage movement and in the campaign for better education, fighting for the rights of the working class and women.
Hannah spoke at meetings of the Independent Labour Party (ILP) and joined the Women's Social and Political Union (WSPU), working as a part-time organiser for the Pankhursts.
As an active member of the Suffragette movement she spent time in prison.
She then later went on to be elected as a Councillor in Manchester. Her autobiography, 'The Hard Way Up, the Autobiography of Hannah Mitchell, Suffragette and Rebel,' was edited by her grandson and published in 1968
(Source: The Magic Attic 'The Mail Remembers' 17/07/2001).
Full details can be found in the Swadlincote Heritage Trail 2 (pdf, 2.9mb) leaflet.
N4: Ben Warren
Born at the Thorn Tree Public House Newhall
Ben was born in Newhall in 1879 and from 1899-1900 he was a footballer for Derby County, with 242 appearances and 19 goals.
From 1908-1911 he played for Chelsea, making 92 appearances and scoring four goals. He also played for England from 1906-1911, appearing 22 times and scoring twice. He was one of the most-capped players of the time.
Whilst playing for Chelsea against Clapton Orient, he sustained a knee injury which ended his career.
Harry, one of his sons also became a footballer, going on to be a very successful manager at Southend United.
Ben died in 1917 and is buried in Newhall Cemetery.
More information can be found at: http://www.englandfootballonline.com/TeamPlyrsBios/PlayersW/BioWarrenB.html
Main source: Stuart Haywood.
Full details can be found in the Swadlincote Heritage Trail 2 (pdf, 2.9mb) leaflet.
N5: Joe Jackson
Coronation Street, Newhall
Born in Burton Upon Trent in 1954, Joe Jackson lived on Coronation Street, Newhall as a child and spent a lot of time at his granny's in Vicarage Road, Swadlincote.
He later moved to New York and became well known as a singer/songwriter. His first hit "Is she really going out with him?" made him an overnight success in 1979.
He has recorded 19 studio albums and received five Grammy Award nominations during his career to date.
In his biography 'A Cure for Gravity' there are several references to Swadlincote including "this unearthly landscape still haunts me" (p3/4).
Further information about Joe's career and performances can be found at: http://joejackson.com/
Full details can be found in the Swadlincote Heritage Trail 2 (pdf, 2.9mb) leaflet.