Walking - Family Fun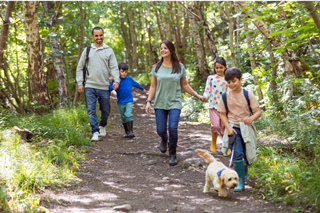 Scavenger Hunt – 'can you find me…' or think up a list at home before you go.
Take photos – children love to do this, on their own kids camera or borrowing your phone.
Nature rubbing – all you need is paper and a crayon.
Bug hunting – a magnifying glass is cheap and light to carry, but it will mean that you'll have to stop for a bit so they can explore.
Gather 'treasures' for an art project at home.
Turn walk into an obstacle course -jump over cracks in the path, run around a bench, touch a tree, walk and balance on a log.
Older children love learning to map read and gain a great sense of achievement from directing the group using a map, checked of course by a map-reading adult!