Leader's Christmas message for South Derbyshire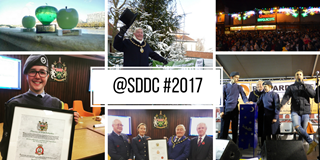 The completion of the Local Plan, award winning projects and bestowing the freedom of the District are just some of the highlights from an unforgettable year in South Derbyshire.
Cllr Bob Wheeler, Leader of South Derbyshire District Council, has been reflecting on 2017 and what lies ahead over the next 12 months.
A major milestone was reached when the Local Plan Part II, outlining the development and infrastructure needs of the District up to 2028, was approved by a Government inspector.
The Waste less, Save more initiative, which helps combat food waste, tasted glory when it beat off competition from more than 500 of the UK's greenest organisations at the annual Green Apple Awards.
The Council has also scooped prestigious accolades for its environmental and health and safety work.
And it has recognised the role played by community groups too, with the 1211 Swadlincote Squadron Air Training Corps (ATC) being awarded the Freedom of South Derbyshire for the role it plays in nurturing young people.
Other highlights include the Council stepping up its approach to be more digitally accessible to residents with the launch of a central Facebook page and a new website.
Cllr Wheeler said:
"As 2017 draws to a close, there are so many things to look back on with satisfaction and pleasure.

"Our Local Plan, in particular, will help protect our towns and villages against inappropriate development for years to come.

"Community events, such as the International Food and Drink Festival, Festival of Leisure, The National Forest Walking Festival and Swadlincote Christmas Lights Switch On, have attracted tens of thousands of people into the District.

"On a sad note we said farewell to current and past Members of the Council, Ann Hood, Bill Dunn and Gill Farrington, all of whom were dedicated servants of the community.

"We would like to wish all of the residents of South Derbyshire a super Christmas and a happy, healthy and prosperous New Year, remembering in particular those who will work through the festive period to keep us all safe, warm and fed."
Looking ahead to 2018, we live in challenging times but I'm happy to say that South Derbyshire District Council is supported by enthusiastic and dedicated partners in the community and our own committed Elected Members and staff mean that we can look forward with confidence to yet more worthwhile initiatives in 2018 and beyond.
22 December 2017