Progress on 'top-class facility' hailed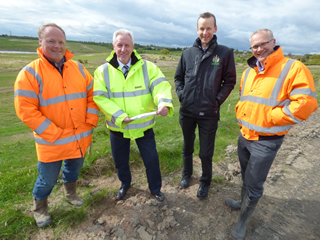 Those behind the bid to create a green lung and leisure oasis right in the heart of Swadlincote have offered up a tantalising glimpse of what lies ahead.
Stuart Ashton, planning and development manager for developer Harworth, and South Derbyshire District Council Chief Executive Frank McArdle led VIPs around the site William Nadin Way, where plans are afoot to create two nine-hole golf courses and a country park.
Planning permission has also been secured for a family pub and restaurant on the land, as well as a hotel, car park, golf shop and around 550 new homes.
Work on the first pay-as-you-play nine-hole golf course is now complete, with the aim of transferring it into the hands of management company N1 Golf in June 2017.
The second course, a par three family friendly design, is currently under construction and is due to be completed later this year.
It is anticipated that work on the country park, which will incorporate new footpaths and cycling routes, will begin in 2018.
Mr McArdle said:
"To have what will be a top-class facility in the heart of a market town is very special and is certainly unique in this area.
"It's all credit to Harworth and the determination they have shown to get this job done that we are where we are today.
"It will be a fantastic place and we would like to thank them for their work so far."
Mr Ashton said:
"Three years ago we inherited a site that was a former surface mine and therefore didn't provide the perfect ingredients for creating a golf course.
"We were faced with a lot of corrective work but, thanks to the efforts of our team, we now find ourselves in a really positive position.
"The public's appetite for golf has changed over the last 10 years for a shorter, more accessible game that appeals to a wider audience, so the decision to create two nine-hole courses was very much market-driven."
10 May 2017