Registered South Derbyshire voter number soars ahead of Parliamentary election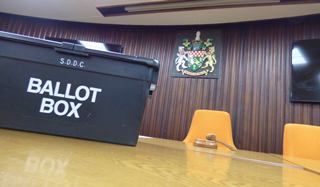 South Derbyshire has experienced a surge in the number of people registered to vote in the upcoming Parliamentary election.
More than 2,000 new people in the district have registered to vote in recent weeks, with around 350 signing up on 22 May 2017 alone – the deadline day for doing so for the Thursday 8 June 2017 poll.
More than 13,000 people are now also signed up to receive postal votes, around 1,750 more than was the case for the recent county council elections.
Returning Officer Frank McArdle said:
"Encouraging and enabling active democracy is one of our key priorities in South Derbyshire, and part of this means making sure residents are able to exercise their right to vote at every opportunity.
"We're delighted at the number of people that have registered to vote and we would now urge them to use that vote when the polling stations open between 7am and 10pm on June 8."
National statistics also show a major increase in the number of people registering to vote. On the 22 May 2017 deadline day, a quarter of a million new people aged under 25 registered.
Cabinet office figures show a total of 622,000 people registered to vote on that day.
A raft of useful information about voting is available at Your Vote Matters and anyone with further queries can contact South Derbyshire District Council's elections team tel: 01283 595723 or email: elections@southderbyshire.gov.uk
An election timetable is available on our Parliamentary election page.
People are reminded that postal votes must be returned by 10pm on 8 June 2017 to ensure they are counted. Any not posted before then can be handed in at a polling station on polling day or delivered to the district council's Civic Offices in Civic Way, Swadlincote.
The deadline for applying for a proxy vote, where someone can be appointed to vote on your behalf, is 5pm on Wednesday 31 May 2017.
26 May 2017