Tenants have their say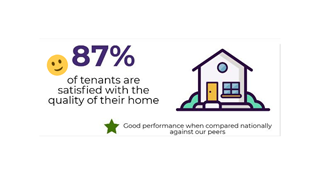 Almost 90% of South Derbyshire District Council's tenants are satisfied with the neighbourhood in which they live, and a similar proportion are happy with the services they receive from the Council.
These were among the finding of a survey designed to give tenants an opportunity to have their say on their homes and associated services.
The Survey of Tenants and Residents (STAR) survey revealed that 89% of tenants are satisfied with services provided, 87% are satisfied with their neighbourhood as a place to live and 87% are satisfied with the value for money their rent provides.
STAR explores areas such as the quality of homes and communities, the effectiveness of repairs and maintenance work and how well the Council communicates with tenants.
Results of the survey have now been analysed and will be used to help shape and further improve housing services provided by South Derbyshire District Council.
As a result, three key areas on which to focus – communication, estate management and repairs/improvement - have been identified, and work to address them is being actioned.
Among changes and upgrades already introduced are an improved cleaning service for communal areas and void properties, tenant involvement in the procurement of the new repairs contract, and a programme of property improvement works agreed.
Consultation with tenants about a new allocations policy took place towards the end of June and housing-focussed training for customer services staff has been delivered.
Cllr Andy Roberts, Chairman of Housing and Community Services at the Council, said:
"The STAR survey gives us a very useful insight into how our residents feel. We are grateful that they took the time to give us their views on the services we provide.

"We would like to thank tenants for responding and want to reassure them we are listening. The results will help us further shape the areas that matter the most to them and it is pleasing to see that this is already starting to happen."
Click
HERE
(png, 703kb)
to download the results infographic.
9 July 2019