Pre-school Saplings back by popular demand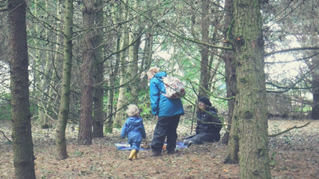 Let your little ones get mucky, learn about wildlife and take part in fun interactive activities in the great outdoors.
Back by popular demand, the Saplings pre-school experiences start again for families to enjoy at Rosliston Forestry Centre from Wednesday, July 10.
This year, a whole variety of immersive activities are being planned for the new 'Secret Sapling' site, including experimenting with different materials to make sound, playing with water and a mud kitchen, seed planting and growing in a polytunnel, nature detectives games in the woodland.
Children will also get to learn, play and create though sensory activities inspired by nature, including bug hunts, mud painting and natural art. They will be introduced to the changing seasons and the site wildlife as well as foraging and making things to take home.
The fun outdoor activities are aimed at children aged between one and four. Older siblings are also welcome during school holiday times (subject to availability).
Councillor Andy Roberts said:
"We are delighted to welcome families once again to our upcoming Saplings event. It is sure to inspire and invigorate young minds whilst being surrounded by natural beauty and wonder at Rosliston Forestry Centre."
The exciting new Saplings area is supported by a CVS South Derbyshire small grant and has been created by volunteers from the Prince's Trust, Rolls-Royce, Naturex, The Conservation Volunteers and Rosliston Rangers.
Saplings sessions are delivered by South Derbyshire District Council's experienced Environmental Education Project team at Rosliston Forestry Centre, DE12 8JX. They take place between 10am and 11am on the second and fourth Wednesday of each month, from July to October. Come to them all or pick and choose the dates that suit you.
Sessions cost £6.50 per child (adults free). Booking is essential - payment is required at the time of booking. A discounted parking rate is available for participants. To book your place call 01283 595795.
If you would like more detailed information before booking, contact the Environmental Education team on: 01283 535039, or by email: rosliston@southderbyshire.gov.uk. You can also follow them on social media on Facebook and Twitter.
24 June 2019