A wild side to roads in South Derbyshire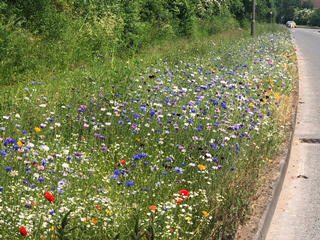 Roadside verges across South Derbyshire are now displaying the colourful results of South Derbyshire District Council's 2021 wildflower planting project
The wildflower planting campaign, called First Impressions, follows a successful pilot campaign in 2020 and includes four new sites and two new gateways into the District.
The project aims to encourage wildflower growth and improve biodiversity on roadsides and across the South Derbyshire.
Sites have been planted with mixes of seeds, including: chamomile, cornflowers, marigolds and poppies producing a vibrant palette of rich wildlife, with some areas displaying up to 300 metres of stunning wildflowers.
The wildflower trials have continued for a second year at the following four sites:
Hartshorne Road, Repton – right hand side of road heading towards Hartshorne just after the Knights Lane junction.
Ticknall Road, Ticknall – left hand side of road heading into Ticknall.
The Mease, Hilton - Derby Road end nearest to A50.
William Nadin Way, Swadlincote.
These four sites require a different management and mowing regime. This includes raking, rotavating, removing weeds and planting.
The six new rural verge sites, two of which are key gateways into South Derbyshire, have seen similar changes to boost wildflowers and wildlife such as bees that depend on them.
The four verge sites where the new mowing regime is in place are:
A514 Ticknall to Stanton.
A50 Shardlow to Elvaston.
Walton Road, Drakelow.
Catton Road, Walton on Trent.

The two gateway sites have also seen changes to the mowing and management of the verge as well as the surrounding area identified for wildflower habitats.
These are:
B5008 towards Willington
A516 Etwall to Mickleover
Councillor Steve Taylor, Chairman of South Derbyshire District Council's Environmental and Development Services Committee said: "It's fantastic to see the First Impressions campaign working so well again this summer. Visually the planting locations have become much more attractive, and at the same time they have become excellent wildlife habitats."
The Council is working in partnership with Derbyshire Wildlife Trust to deliver the project.
#SDDCDestinationCarbonNeutral
Pictured – One of the wildflower verges, at Hilton
22 July 2021