Candidates standing in South Derbyshire District Council by-elections on Thursday 6 May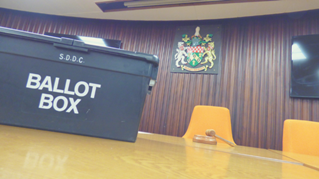 Candidates standing in South Derbyshire District Council by-elections
Residents living in Church Gresley, Hilton and Seales wards will have the opportunity to vote for councillors to represent them in by-elections which will be held on Thursday 6 May.
Candidates standing in the elections are:
Church Gresley ward (one vacancy)
Roger Redfern (CON)
Sue Taylor (LAB)
Hilton ward (two vacancies)
Grahame Warwick Andrew (LD)
Alan Wayne Graves (REF)
Gillian Lemmon (CON)
David Henry Peacock (LAB)
Peter Henry Smith (CON)
Maureen Timmins (LAB)
Seales ward (one vacancy)
Simon David Ackroyd (CON)
Steven Frost (LAB)
Each of the candidates elected in the South Derbyshire District Council by-elections held on Thursday 6 May will serve as councillors until the next District Council elections in 2023. They will serve in addition to the existing councillors who were elected in 2019:
Councillor Gordon Rhind (LAB) and Councillor Trevor Southerd (LAB) in Church Gresley ward
Councillor Julie Patten (CON) in Hilton ward
Councillor Amy Wheelton (not representing a political group) in Seales ward
Polling stations will be open from 7am to 10pm on Thursday 6 May.
There may be queues at the polling stations as everyone voting in person will be asked to maintain social distancing measures including:
To wear a face covering at all times unless medically exempt
To bring along a pen or pencil to vote
To remain two metres apart from other people at all times.
South Derbyshire District Council provides services to residents including: bin collections, street cleaning, maintaining award-winning parks and open spaces, environmental protection, housing customer services including revenues and benefits, economic development, markets, town centre events and tourism.
4 May 2021