Wildflowers on the verge of blossoming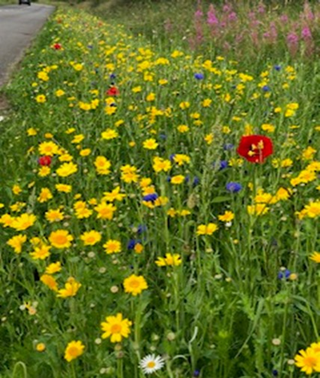 Grass verges in South Derbyshire are set to bloom again this spring following a successful wildflower planting pilot carried out last year by South Derbyshire District Council.
Plans for the 2021 campaign, called First Impressions, include four new sites and two new gateways into South Derbyshire.
The project aims to encourage wildflower growth and improve biodiversity on roadsides and across the South Derbyshire.
Last year, the sites were planted with mixes of seeds, including: chamomile, cornflowers, marigolds and poppies producing a vibrant palette of rich wildlife, with some areas displaying up to 300 metres of stunning wildflowers.
The wildflower trials will continue at the following four sites:
Hartshorne Road, Repton – right hand side of road heading towards Hartshorne just after the Knights Lane junction.
Ticknall Road, Ticknall – left hand side of road heading into Ticknall.
The Mease, Hilton - Derby Road end nearest to A50.
William Nadin Way, Swadlincote.
These four sites require a different management and mowing regime, which is set to continue this year. This includes raking, rotavating, removing weeds and planting.
The six new rural verge sites, two of which are key gateways into South Derbyshire, will see similar changes to boost wildflowers and wildlife such as bees that depend on them.
The four verge sites where the new mowing regime will begin are:
A514 Ticknall to Stanton.
A50 Shardlow to Elvaston.
Walton Road, Drakelow.
Catton Road, Walton on Trent.
The two gateway sites will again see changes to the mowing and management of the verge as well as the surrounding area identified for wildflower habitats.
These are:
B5008 towards Willington
A516 Etwall to Mickleover
Councillor Steve Taylor, Chairman of South Derbyshire District Council's Environmental and Development Services Committee said: "I'm pleased that the First Impressions wildflower planting project will continue this year. This will help us determine a long-term sustainable approach to preserve the haven of wildlife in South Derbyshire.
"These sites are brilliant habitats for wildlife. They encourage pollinators like bees and butterflies and when left to grow, long and short grass can also create highways for a variety of species.
"How we manage the cutting of grass verges to enable wildflowers to flourish is a really important step to improve biodiversity for generations to come. It's also important to say that this work fits with road safety criteria too."
The Council is working in partnership with Derbyshire Wildlife Trust to deliver the project.
Sustainability is a key aim for South Derbyshire District Council. The Council declared a climate emergency in June 2019 and is a key part of the Council's current Corporate Plan
#SDDCDestinationCarbonNeutral
Pictured – a roadside verge pictured during last year's pilot planting project
20 May 2021