Plant a free tree for the Jubilee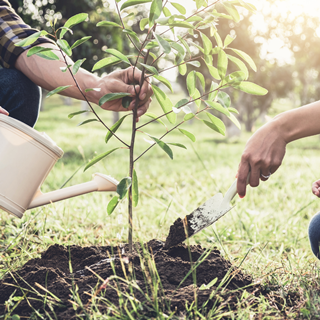 South Derbyshire residents, schools, community groups and organisations are being given an opportunity to mark the Queen's Platinum Jubilee as our popular Free Tree Scheme returns for another year in partnership with the National Forest Company.
The scheme is supporting the Queen's Green Canopy Project which encourages people to plant a tree to support Her Majesty's Platinum Jubilee in 2022.
The tree choices have been themed 'red, white and blue' to fit in with the Jubilee celebrations. This year's species are - Common Dogwood, Elder, Wayfaring Tree and Whitebeam. All the trees have white flowers and red or dark blue berries with some having red stems.
Councillor Kevin Richards, Leader of South Derbyshire District Council said: "We are delighted to be running this wonderful scheme again. Last year, we gave away over 1,000 trees to residents, schools and organisations across South Derbyshire and we expect a greater demand this year.
"The splash of red, white and blue is a fantastic touch and it will provide a great a reminder of the Queen's Platinum Jubilee every time they produce flowers and berries for many years to come."
Households can ask for up to two trees. Schools, organisations and community groups can apply for up to ten.
Trees ordered in October will be available for collection on fixed dates in early December. More details of the dates and times will be released nearer to the time.
Once people have planted their trees, they can support the Queen's Green Canopy by adding them to the project's online virtual map.
Councillor Richards added: "We've chosen small garden-sized trees so that anyone with a garden or even a large pot can take part. The trees will help attract wildlife to gardens, school and business premises and contribute towards a greener environment.
Applications can be made online at www.southderbyshire.gov.uk/freetreescheme or by calling 01283 595795.
Applications will be open from 9am Monday 4 October until midnight on Sunday 31 October. This will be on a first-come, first-served basis.
1 October 2021