The Snowman and The Snowdog fly into Swadlincote for Christmas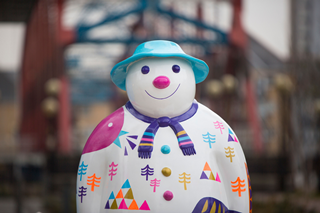 Residents and visitors to Swadlincote can take part in a stunning sculpture trail as Raymond Brigg's heart-warming The Snowman and The Snowdog characters arrive in the town centre this November.
The trail, brought to Swadlincote by South Derbyshire District Council in partnership with Wild in Art and Penguin Ventures, part of Penguin Random House UK, is inspired by The Snowman and The Snowdog short, animated film released in 2012 and the sequel to Raymond Briggs' worldwide and much-loved hit The Snowman.
In it, a young boy builds a snowman and creates a Snowdog with the remaining snow. At midnight both of his creations come to life.
The magical characters will be in place from Saturday 20 November to Sunday 16 January, offering plenty of opportunities for residents and visitors to enjoy revisiting their childhood memories.
Visitors to the town centre can put on their hats, scarves and socks, come along and say "hello" and take a selfie with the 12 stunning The Snowman sculptures, based on the much-loved Twelve Days of Christmas song, and eight unique The Snowdog sculptures.
Councillor Kevin Richards, South Derbyshire District Council's Leader, said: "The Snowman has been loved by generations of children and this trail in Swadlincote will offer a wonderful way to bring families together, with children who love the film taking part with parents and carers who also loved the film as children.
"The Snowman and Snowdog sculptures are very prestigious and I am very proud that we are able to bring these sculptures to South Derbyshire this Christmas."
A full programme of Christmas events will be announced in the coming weeks with festive characters, film shows, live entertainment and arts and crafts set to be on offer.
Councillor Richards added: "This year, we are planning a series of free Christmas events over a longer period to give people more opportunities to visit Swadlincote Town Centre this year. I look forward to giving more details shortly."
Charlie Langhorne, Managing Director and Co-founder at Wild in Art said: "We're really excited to continue our ongoing partnership with Penguin Ventures on another The Snowman and Snowdog art trail in our new location of Swadlincote for 2021. We can't wait for visitors to discover the magic of the trail and see how the artists have brought Raymond Brigg's iconic character to life."
Further information regarding the trail and trail map will be available soon on www.visitsouthderbyshire.co.uk/snowman The Snowman and the Snowdog initiative is organised by South Derbyshire District Council and Wild in Art and is supported by Welcome Back funding from the European Regional Development Fund (ERDF).

The programme includes a series of projects, which will be part-funded up to the total value of the funding (£190,838), from the England European Regional Development Fund as part of the European Structural and Investment Funds Growth Programme 2014-2020. The Ministry of Housing, Communities and Local Government (and in London the intermediate body Greater London Authority) is the Managing Authority for European Regional Development Fund. Established by

the European Union, the European Regional Development Fund helps local areas stimulate their economic development by investing in projects which will support innovation, businesses, create jobs and local community regenerations. For more information visit https://www.gov.uk/european-growth-funding
About The Snowman™
The Snowman was created and illustrated by Raymond Briggs as a picture book, narrated entirely through hand-drawn illustrations and was first published in 1978. Now one of the world's most popular picture books, The Snowman has sold in excess of 5.5 million copies globally and has been translated into 21 languages. Adapted for screen by producer John Coates, the Oscar-nominated animation launched on Channel 4 in its inaugural year in 1982 and has been repeated every Christmas since. The sequel, The Snowman and The Snowdog premiered on Channel 4 on Christmas Eve 2012 and was seen by over 10 million people over the festive period. The Snowman™ brand enjoys an international audience with publishing, global broadcast, live events and a successful consumer products programme all managed by Penguin Ventures (part of Penguin Random House Children's).
About Wild in Art
Wild in Art is the leading producer of spectacular public art events that entertain, enrich, inform and leave a lasting legacy. It brings together businesses and creative sectors with schools and local communities through the creation of uniquely painted sculptures.
Since 2008 Wild in Art has animated cities across the world including Manchester, Sydney, Auckland, Cape Town and São Paulo, and created trails for the London 2012 Olympics, the 2014 Commonwealth Games in Glasgow, Historic Royal Palaces and Penguin Random House.
wildinart.co.uk | @wildinart | #wildinart
About Penguin Ventures
Stories have always been at the heart of Penguin Random House. Penguin Ventures was created to bring together the Licensing, Consumer Products, TV Production, Retail, Exhibitions and Live events strategies and to find new ways to tell the world's favourite stories. Penguin Ventures manages a portfolio of licensed literary brands and characters together with an archive of original art. For many years, those characters lived mainly in books, but now they are providing the magic and wonder for all kinds of different consumer products, media and experiences, going beyond the book to tell the complete story. Penguin Ventures is part of Penguin Random House Children's UK.
23 October 2021