Annual Report looks to ambitious future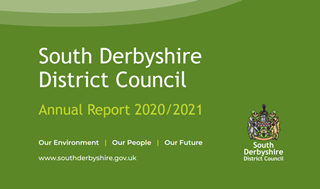 South Derbyshire District Council's 2021/21 Annual Report has been unanimously approved.
Councillors approved the report, which acknowledges the challenges posed by the COVID -19 pandemic alongside highlighting the many achievements that were accomplished during this period at their meeting on Thursday 16 September.
During the year, the Council successfully distributed £24 million in grants to local businesses who had been adversely affected by the pandemic and was one of very few councils to continue with all bin collections.
An appreciation of the dedication and resilience shown by Council staff, residents, partners, and community groups runs throughout the 19-page report.
Councillor Kevin Richards, Leader of South Derbyshire District Council said: "Over the last year I have had a unique insight into the daily issues affecting many residents' lives and have had the opportunity to see first-hand the work that is done by the Council's dedicated staff in making a difference to people and safeguarding our most vulnerable.
"We have many challenges ahead of us, particularly as we have faced probably one of the most challenging and difficult periods any of us has experienced."
The report not only documents the challenges and successes of the last year but underlines the Council's ambitious plans for the future – especially in areas like the environment, affordable housing and job creation.
Councillor Richards added: "Working with partners, we will strive to make the District's future sustainable by creating an environment that supports job creation and provides affordable housing to enable our young people to find work and live locally.
"We will continue to reduce the impact the Council has on the environment and help residents and businesses to do the same."
"I look forward to working together to create a stronger, sustainable South Derbyshire we can all be proud of."
The Annual Report 2020/21 can be viewed here: www.southderbyshire.gov.uk/annualreport.
20 September 2021