Mapping portal updated to keep residents better informed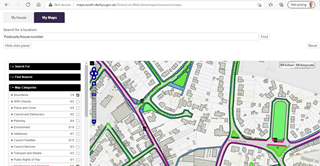 South Derbyshire residents can now view the environmental services provided by South Derbyshire District Council in their street or area following an update to the mapping portal on the Council's website.
Residents can put in their postcode and find up-to-date information of where work is being carried out and which assets belong to the Council in their area including:
Grass cutting
Shrubs, hedgerows and woodlands
Play areas
Street cleaning
Litter and dog waste bins
Bus shelters
Grit bins.
Councillor Steve Taylor, Chair of South Derbyshire District Council's Environment and Development Services Committee, said: "The updated mapping portal available on the Council's website will make it easier for our residents to find out – quickly and simply – where services provided by South Derbyshire District Council are being carried out.
"All they have to do is find the My Maps page of the Council website, enter their postcode and the information will be available to view.
"I hope that by launching this app, it will allow residents to be better informed of the services we provide and also help us to improve the quality of these services."
The portal also includes information about upcoming bin collections, local councillors and planning applications in the area.
To view the maps, visit www.southderbyshire.gov.uk/mymaps and enter a postcode. The information is grouped in the map categories listed on the left side of the map, ready to click and view.
17 September 2021