Council Tax increase to protect vital services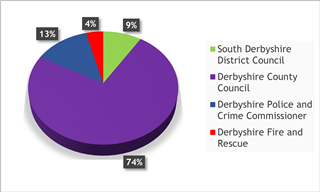 The Council Tax that South Derbyshire residents will pay for services provided by South Derbyshire District Council will increase by 2.9 per cent in the coming year.
This means that residents in a band D property pay in Council Tax will increase by £4.95 from £167.96 to 172.91 in 2022/23. This works out at an increase of less than 10p per week.
Councillor Kevin Richards, South Derbyshire District Council's Leader, said: "Increasing Council Tax – even by a small amount – is not something that we take any pleasure in doing but this is necessary given the reduction in the funding we receive from the Government if we are to continue to provide the vital services we provide day in, day out, to our residents."

Of the Council Tax paid by South Derbyshire residents, only nine per cent is kept by South Derbyshire District Council.
This pays for services including bin collections, street cleaning, maintaining award-winning parks and open spaces, environmental protection, customer services including revenues and benefits, economic development, markets, town centre events and tourism.
Of the rest:
74 per cent is kept by Derbyshire County Council for services including education, highways, libraries, children's services and adult social care
13 per cent goes to the Police and Crime Commissioner for Derbyshire
four per cent is paid to Derbyshire Fire and Rescue Service.
Residents will also pay Council Tax to their local parish council – this will vary depending on area.
25 February 2022