Home Energy Efficiency Roadshow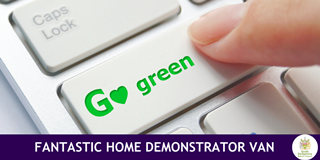 South Derbyshire District Council is partnering Marches Energy Agency and hosting an energy efficiency roadshow in Swadlincote Town Centre on Saturday, 5 March.
From 10am – 2pm people can come along and find out about home energy efficiency improvements, available grants, and many other ways to help reduce rising energy costs.
Marches Energy Agency's "Fantastic Home Demonstrator Van" – which is an interactive 'house on wheels' will be on display. This innovative display promotes home energy efficiency and domestic renewable advice in a fun and engaging way.
Experienced and qualified staff will be on hand to answer any questions householders may have on how to save energy.
Advice available will centre on energy saving tips and renewable energy options. People will be able to check their suitability for heating and insulation grants, get information on tariff switching and energy supplier disputes, and receive guidance on any other additional support available.
South Derbyshire District Council officers will also be on hand to talk through the current Green Homes Grant that is available. Through the grant, eligible homeowners can apply for free funding to improve the energy efficiency of their home to reduce their fuel bills.
The grant, of up to £10,000, is part of a government-backed scheme to help successful applicants improve the energy performance of their home through loft and cavity wall insulation. A homeowner's total household income must be below £30,000 and the property must have an Energy Performance Certificate rating of D or lower to be eligible for the Green Homes Grant.
The resulting improvements could potentially reduce a household's energy bill by £600 per year.
As well as the opportunity to find out how you can reduce your energy bills. There will also be lots of free children's entertainment and activities to get involved with, as the energy roadshow coincides with the Gruffalo's visit to Swadlincote.
To find out more information about the Green Homes Grant please visit: Apply for a Green Homes Grant | South Derbyshire District Council.
23 February 2022