One per cent Council Tax increase for South Derbyshire District Council services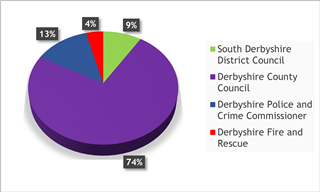 South Derbyshire residents will see a rise of one per cent in the amount of Council Tax they pay for services provided by South Derbyshire District Council in the coming year.
This means the amount that residents in a band D property pay in Council Tax will increase by £1.73 from £172.91 to £174.64 in 2023/24. This works out at an increase of around 3p per week.
Councillor Kevin Richards, South Derbyshire District Council's Leader, said: "We are aware of the number of residents in South Derbyshire who are struggling with the cost of living which is why we have agreed to raise Council Tax by just one per cent to ensure that families are impacted as little as possible while allowing us to provide vital services."
South Derbyshire District Council keeps less than nine per cent of the money paid by residents in Council Tax. This funds services including bin collections, street cleaning, maintaining award-winning parks and open spaces, licensing, environmental protection, customer services including revenues and benefits, economic development, markets, town centre events and tourism.
Of the rest:
74 per cent is kept by Derbyshire County Council for services including education, highways, libraries, children's services and adult social care
13 per cent goes to the Police and Crime Commissioner for Derbyshire
Four per cent is paid to Derbyshire Fire and Rescue Service.
Residents will also pay Council Tax to their local parish council – this will vary depending on area.
23 February 2023