Beat the Street launches in Swadlincote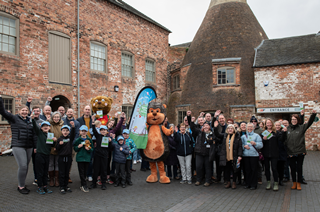 The much anticipated Beat the Street Swadlincote game launched earlier today (Wednesday, 15 March) with scores of participants signed up to earn points whilst walking, cycling, and rolling across Swadlincote and surrounding villages.
Beat the Street is a free, interactive game that encourages people of all ages to move more and to get active; it started today and will continue for six weeks until Wednesday, 26 April.
As well as helping people create healthier lifestyle habits, it also improves air quality, congestion and pollution, and connects people to their communities and green spaces.
Beeping and flashing sensors called 'Beat Boxes' have been placed on lampposts around Swadlincote and surrounding villages for the duration of the game to help participants explore the local area and all it has to offer and to develop the habit of regular exercise.
Local primary school pupils have been provided with cards and a map while wider community can pick up a contactless card from one of the distribution points which are listed on the website at http://www.beatthestreet.me/swadlincote or you can download the free Beat the Street app.
Players then walk, cycle or roll between the Beat Boxes which are spaced approximately half a mile apart – hovering their cards over the Beat Boxes to score points. The further players travel, the more points they score for their community or school team. The first Beat Box you hover your card over marks the start of your journey.
There are leaderboards for schools, community teams and charity teams and each is divided into total and average points to ensure that smaller teams are in with an equal chance of winning.
The first week of the game is themed 'Go Play' for players to get to grips with the rules and subsequent weeks have a different focus, from Go Explore to Go Wild and Go Travel.
Beat the Street Swadlincote has been commissioned by South Derbyshire District Council, the National Forest Company and Derbyshire County Council with support from the National Lottery via Sport England. It is being delivered by Intelligent Health.
Councillor Kevin Richards, South Derbyshire District Council's Leader said: "Beat the Street provides an incredible opportunity to support children and their families to become active as a habit, through a fun and friendly competition.
"We're delighted that the game will give everyone of ages and abilities the opportunity to explore the area, to spend time together as a family and to enjoy walking, cycling and rolling outdoors in all the wonderful green spaces across our area."
Sean McBurney, South Derbyshire District Council's Head of Cultural and Community Services added: "It has been great to see the game launched and enjoyed by so many today. It has already brought lots of new groups of people into Swadlincote town centre and the early feedback has been very positive.
"I would recommend people to check out the website or download the app and get involved."
More information, including where to collect a free card is available at http://www.beatthestreet.me/swadlincote or by downloading the Beat the Street App via Google Play or the App Store.
15 March 2023