SnapBox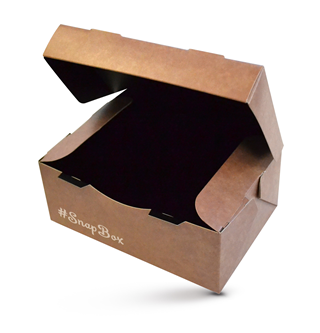 Research shows that three quarters of people would like a 'doggy bag' option available to take home uneaten food for later, but half of you are too shy to ask for one. 
We trialled a box scheme in South Derbyshire but found that most catering outlets preferred to supply their own
Asking for your leftovers is a good thing -  it helps save you money as you can eat the food later instead of buying more and it makes sure our local tasty fare does not go to waste.
Before you ask to take them home, check (tactfully) whether your leftovers have been previously frozen, reheated or kept warm eg on a carvery – and for how long. That's just so you know how long they are still good to eat safely
Most cafes or restaurants will have something to wrap leftovers in, even if it is just foil.
Once you get home with your leftovers:
Chill, freeze or heat/eat as soon as possible.
Note the date/time and:
chill or freeze food which was served hot within two hours of it being cooked*
chill or freeze food which was served cold within four hours of it being taken out of a fridge in the restaurant/café*
eat leftovers within two days of chilling in fridge or straight away if defrosting them.
only reheat once and ensure the food is steaming hot throughout
You are advised to avoid keeping or reheating leftover rice.
*remember to include any time the food was out of the fridge/ oven before it was served to you
If you want to find out more and share your own ideas about reducing food waste please join this group on Facebook https://www.facebook.com/groups/SwadlincoteWasteLessSaveMore/ or like our page here https://www.facebook.com/SwadlincoteWasteLess/
SnapBox for restaurants, catering outlets and businesses
SnapBox is a scheme to provide support to South Derbyshire catering businesses that want to reduce food wasted on their premises.
Our Environmental Health team will talk to you about any waste food issues you might have. If useful to you, we can provide posters for customers to encourage them to ask for leftovers and stickers for you to use on your boxes advising customers how to use up their leftovers safely.
The aim is to increase the number of customers that take home leftover restaurant food rather than it going to waste. This serves as a great opportunity to help customers, save money and reduce food waste..
We'll work in partnership with you to promote your business, the saving and the re-use of leftover food.
We understand the safety issues of taking food away from the premises. However, our Environmental Health experts will be providing easy to follow food safety advice and this will be summarised on the stickers we can provide you with.
Advantages include:
Reducing the amount of waste that is currently left on plates by customers decreases the amount of waste you will have to deal with.
Being seen to do the right thing and taking the issue of food waste seriously by actively encouraging customers to take away leftovers as well as reduce avoidable food waste.
A potential increase in the amount of food people buy (this was the case during a similar pilot study in Scotland).
For more information contact Snap.Box@southderbyshire.gov.uk