Christmas bin collections change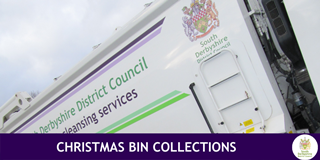 All bin collections will be carried out over the Christmas period – all residents will receive their black, green and brown bin collections. The only change to regular bin collections is collections usually carried out on Boxing Day, Monday 26 December will be collected on Christmas Eve, Saturday 24 December. All other collections will be carried out on the usual days
It's important to keep recycling over the busy Christmas period. If you are unsure of what goes where, please refer to our simple online guide.
If you do have extra recycling over Christmas: you can put cardboard next to your green bin, extra paper recycling and extra glass recycling can go in boxes next to the green bin – please don't mix up the paper and glass.
Artificial Christmas trees that are made from a combination of materials cannot be recycled. Unwanted artificial trees in good condition may be accepted by charity shops to sell or could be repurposed as wreaths and other decorations. If the tree is made only of plastic it can be taken to the nearest household recycling centre where it can be put into the plastic recycling container, where it can be recycled without going into landfill.
'Real' Christmas trees are recyclable - unwanted trees can go in your brown bin, just remember to cut it to fit and to remove all tinsel and decorations as well as pots or stands.
In January, St Giles Hospice will collect and recycle real Christmas trees in return for a donation as part of their Christmas TreeCycle scheme.
13 December 2022