Chairman of the Council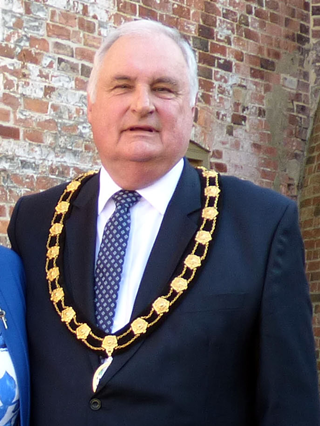 Councillor David Muller is the current Chairman.
Handed the civic chains at the annual Civic Council meeting, he represents the Council at a wide range of events and functions as its politically neutral figurehead until May 2020.
Councillor Muller, who represents the Etwall ward and was first elected in 2015, says it is a privilege and honour to represent the people of South Derbyshire.
The former freight forwarding business owner who lives in Etwall has chosen Rainbows Hospice, which cares for life-limited children and young people, as his charity for the year after he learned more about it during a visit to its Open Day last year.
He explained: "The visit was one of the most uplifting and heart-warming experiences I have ever had, considering the devastation and sadness of end of life care, especially for the young."
Councillor Muller has Councillor Neil Atkin as Vice-Chairman and his wife Anne as his consort.
The Chairman is looking to attend as many events throughout South Derbyshire as possible and welcomes invites from members of the public, businesses and voluntary organisations.
Request Chairman attendance
Councillor Muller can be contacted on 01283 - 734553 or by emailing david.muller@southderbyshire.gov.uk
Anyone who would like to support Councillor Muller with his fund-raising efforts should email chairsoffice@south-derbys.gov.uk.