Chair of the Council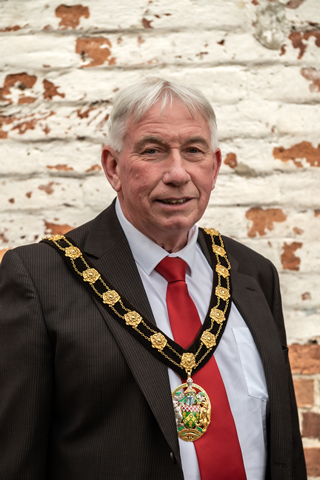 Councillor Sean Bambrick is the current Chair of the Council.
The civic chains were passed to him by the out-going Chair at the annual Civic Council meeting on 25, May 2023. During his civic year, Councillor Bambrick will represent the Council at a wide range of events and functions as its politically neutral figurehead.
Councillor Bambrick, represents the Newhall and Stanton ward and was first elected in June 2001.
Councillor Sean Bambrick, Chair of South Derbyshire District Council on his appointment said:
"Hello, my name is Councillor Sean Bambrick and I am proud and honoured to be chosen as the Chair of South Derbyshire District Council for the next year.

"I am married to Pat who has given me great support over the years. We have three children, eight grandchildren and one great grandchild who all give us both endless pleasures.

"I was born in Midway but have lived most of my life in Newhall.

"I have been a Councillor and represented Newhall and Stanton for 22 years. I have also served 12 years as a County Councillor for Newhall.

"In my working life I did a four-year engineering apprenticeship before working down the mines. I worked at Cadley Hill Colliery, Coventry Colliery, Littleton Colliery, Cannock and Annesley Colliery and Bentinck Colliery. At North Nottinghamshire Coalfield I spent many years as a Deputy – so it is fair to say I have spent a lot of time underground!

"Outside of work life, I played football in my younger days and helped run boys football teams. Nowadays I stick to watching football as a proud season ticket holder at Burton Albion FC.

"My remaining spare time I like to spend enjoying and relaxing in my garden.

"My chosen charity for the year is Miles for Smiles."
You can find out more about the Chair's chosen charity here Home - Miles For Smiles (milesforsmilesuk.com).
If you are a South Derbyshire resident, business or voluntary organisation and would like to invite the Chair to an event or ceremony please click on the link below.
Councillor Bambrick can be contacted by emailing: chairsoffice@southderbyshire.gov.uk.