Chairman of the Council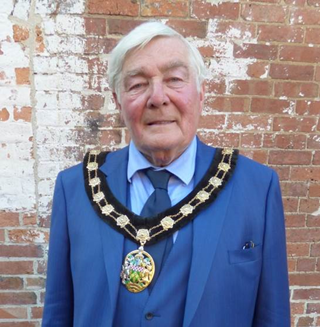 Councillor Michael Stanton is the current Chairman.
Handed the civic chains at the annual Civic Council meeting he represents the Council as its politically neutral figurehead at a whole range of events and functions for a year.
Councillor Stanton, who represents the Repton ward and has served on the authority since 2011, is keen to champion the cause of volunteers during his year in office.
"I ask that any volunteers or groups come forward so I can share their experiences and raise the profile of what they do," he says.
The Ticknall resident has chosen the Derbyshire, Leicestershire and Rutland Air Ambulance as his charity for the year.
"My support for the Air Ambulance comes after my granddaughter Jemima was kicked in the side of the head by a horse a few years ago - she was just four at the time.
"The air ambulance whisked her to hospital with bruising on the brain. It was touch and go for four days or so, but I genuinely believe that the response of the air ambulance was the main reason she pulled through.
"I want to give something back to support their excellent work, especially in rural areas," he explains.
Councillor Stanton has Councillor David Muller as Vice-Chairman and his wife Anne as his consort.
The Chairman is looking to attend as many events throughout South Derbyshire as possible and welcomes invites from members of the public, businesses and voluntary organisations.
Request Chairman attendance
Councillor Stanton can be contacted on 01332 862044 or by emailing michael.stanton@south-derbys.gov.uk.
Anyone who would like to support Councillor Stanton with his fund-raising efforts should email chairsoffice@south-derbys.gov.uk.