Chairman of the Council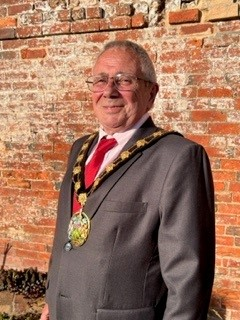 Councillor Paul Dunn is the current Chair of the Council.
The civic chains were passed to him by the out-going Chair at the annual Civic Council meeting on May 19 2022. During his civic year, Councillor Dunn will represent the Council at a wide range of events and functions as its politically neutral figurehead.
Councillor Dunn, represents the Midway ward and was first elected in 2011. He is following in the footsteps of his father, Councillor Bill Dunn, who also held office of Chair of the Council in 1983/1984 and 1996/1997. He lives in Newhall with his wife Lesley, who will be supporting him during civic visits throughout his year in office.
After a varied career which included engineering apprentice, draughtsman, underground fitter and pub owner for 17 years, Councillor Dunn and his wife moved to Spain for 8 years before returning to the UK.
Councillor Dunn says it is a great privilege to hold the position of Chair for South Derbyshire District Council and is looking forward to meeting as many South Derbyshire residents as possible during his civic year.
If you are a South Derbyshire resident, business or voluntary organisation and would like to invite the Chair to an event or ceremony please click on the link below.
Councillor Dunn can be contacted by emailing: chairsoffice@southderbyshire.gov.uk.