Chairman of the Council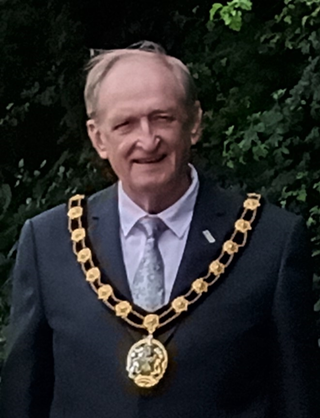 Councillor Malcolm Gee is the current Chair of the Council.
The civic chains were passed to him by the out-going Chair at the annual Civic Council meeting on May 27th 2021. During his civic year, Councillor Gee will represent the Council at a wide range of events and functions as its politically neutral figurehead.
Councillor Gee, who represents the Woodville and Hartshorne ward and was first elected in 2019, says to hold the position of Chair for South Derbyshire District Council is a great honour and privilege.
The retired driving instructor who lives in Newhall is also the Chair of Woodville Parish Council. He has chosen Rainbows Hospice and the NSPCC as his charities and is planning fund raising activities to take place throughout the year.
Councillor Gee has his daughter, Mrs Emma Stubbs, as his consort and Councillor Paul Dunn as Vice-Chair.
The Chair would like to meet as many South Derbyshire residents and businesses as possible during the next 12 months and welcomes invitations from members of the public, businesses and voluntary organisations.
Councillor Gee can be contacted on 01283 350421or by emailing Malcolm.Gee@southderbyshire.gov.uk
Anyone who would like to support Councillor Gee with his fund-raising efforts should email chairsoffice@southderbyshire.gov.uk.